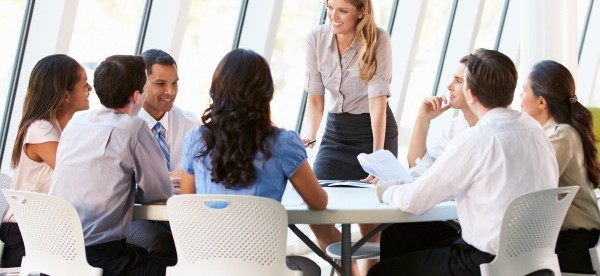 By Monica McNutt
I've been incredibly fortunate to have examples of great leadership to pattern myself after.
Leaders see success
Vision, strategy, and tact are key qualities good leaders possess. They can see an end goal that may seem a little far-fetched, and not only can they envision it, they are able to figure out how to accomplish it and pave the way.
Leaders take responsibility
The way to success is certainly filled with potholes, unfinished roads, detours and breakdowns, yet the leader manages to keep the team focused and inspired. A leader accepts the blame, serves as the bridge over troubled waters, and may get patted on the back later, much later. Following a bad decision, a leader will apologize, accept and correct her error.
Leaders provide direction
I realize that people don't always want to be told; rather many want to be shown. However, sometimes people must be told, and a good leader will tactfully deliver the necessary message, likely with instruction, encouragement and even coaching. A leader keeps her finger on the pulse of the team and is able to sense what they need, and when they are ready and able to follow to get the job done.
Leaders' passion and dedication is clear to all
Society so often gets caught in the glamorous side of leadership and fails to acknowledge its cool underbelly. For every example of a leader that has achieved notable success, there were times when things were not as good. Credit the endurance and determination it takes to see the vision through.
Leaders cultivate consistency
As a leader you must be consistent. The minute you show favoritism with all those eyes watching is the minute you set yourself up for failure. Of course, each person has different needs, but across the board there must be a level of consistency. You must also understand that your decision as a leader will sometimes not be popular, but you must stand by your vision and present yourself with confidence. A leader is the confidant but not a friend; friendship implies an emotional attachment and emotions are the quickest way to cloudy judgment. Also, as a leader you must be in line and on one accord with those above you (e.g., bosses, coaches). You don't ever want to be hung out to dry, especially when leading a group of peers. Knowing that you have support helps you do your job more effectively.
Leaders practice leadership
Leadership in its best form is a natural gift that has been developed and cultivated. Everyone has a dose of leadership in them, some more than others. It is truly a skill just like any other, which requires nurturing. It is a gift to be treasured, and used productively. Use it or lose it. Use it to help others!
Monica McNutt

Monica McNutt is a recent graduate of Georgetown University, and is now a kindergarten aid at Perry Street Prep Charter School in D.C. She also writes for the Washington Post and works for Georgetown's athletic department.

Monica was captain and two year MVP of Georgetown's women's basketball team, which went to the Sweet Sixteen last year. While she was an outstanding player, it was her leadership that particularly influenced the success of the program. Her team's record improved during each of her four years, which was generally attributed to Monica's leadership.
At the end-of-season banquet, in their remarks, each of the coaches specifically mentioned that they had learned a great deal from Monica and her leadership. Both our head coach and assistant coach stated that they realize the value of not just teaching their players, but also to listening to their players. They specifically credited Monica with helping them understand that.
I was at that banquet and thought, "Oh, how I wish more bosses would realize that their teams would do so much better if they listened to their team members."
While Monica's business career is really just beginning, she has the attitude, drive and desire to help others succeed that will bring her great success. She is a giver—all about encouraging, supporting and helping others!