Lead
Good bosses = Great Leaders
Can you believe that 50% of employees don't feel that they have an effective working relationship with their boss?
Inspire
It's not easy, but it's worth it.
Learn how to stand out in today's competitive marketplace by creating a dynamic organizational culture.
Strive
Great success includes great feedback
The path to success in business, as leaders, as well as in our personal lives, is to strive for continuous improvement.
Women, Leadership & Higher Profits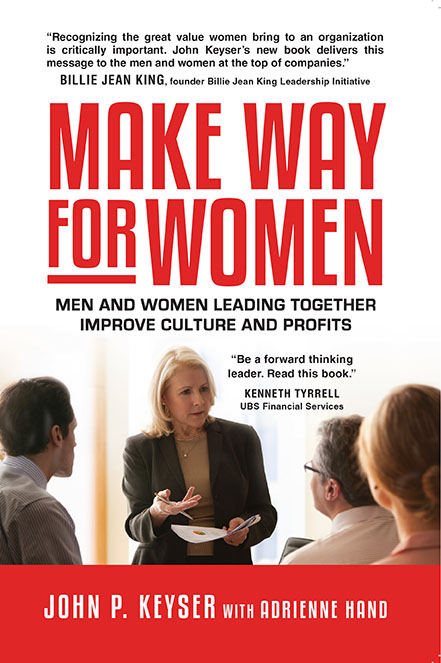 In new book,
Make Way for Women: Men & Women Leading Together
Improve Culture and Profits
, John Keyser and Adrienne Hand profile
45 respected male and female business leaders who share vital insights
about the way women lead and the best ways for men and women to lead together. Senior leaders who read this book will gain the assurance that advancing women to the C-Suite is the right thing and the smart thing to do,
and they will take away specific practices to make it happen.

.
We need women and men who recognize that their companies would be stronger with more
women with key leadership responsibilities. Helping women advance is not only the right, just
thing to do, it will also have very significant favorable effects on our companies and our results!
Read more about women and leadership
.
Ideas & Advice
by John Keyser

How can it be 2015, and yet brilliant and...

by John Keyser Recently during a conversation, my friend Kathleen, who is an...
Read More